Football Academy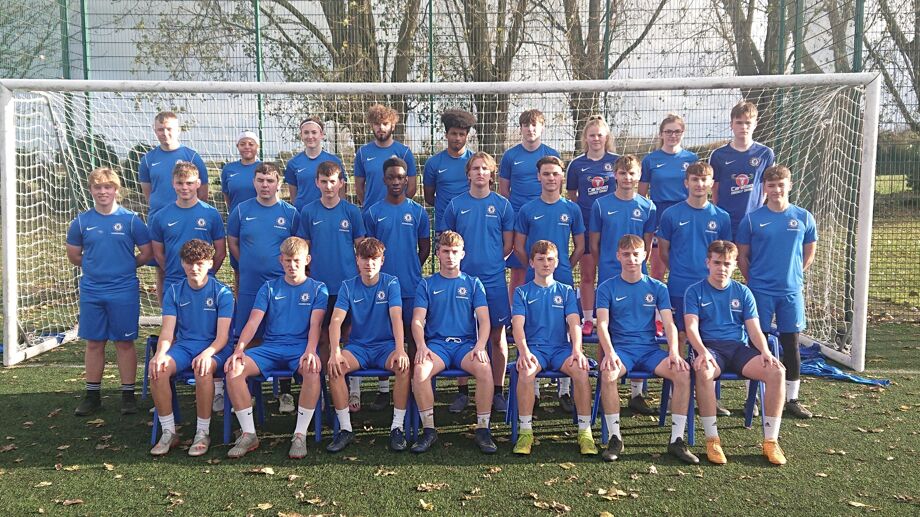 At the STS Football Academy we provide an environment where individuals can reach their full potential - academically, personally and as a player. When you are with us you will be pushed both on the pitch and off the pitch to strive for the very best.
We have a dedicated team of staff who have vast experience of teaching BTEC Sport and have FA coaching qualifications. At the STS Football Academy we offer both the BTEC Level 3 Extended Diploma and the BTEC Level 1/2 First Diploma in Sport.
More information is provided below about us, the courses that we run, the football that we offer, and the experiences that come with joining the STS Football Academy:
As the Football Academy is supported by Chelsea FC Foundation students will be required to purchase the kit we offer to them from Chelsea. This is considered their uniform and will be expected to be worn every day. It should also be noted that Football Academy students are expected to act as role models to the school's younger pupils.
The Chelsea FC Foundation
At the STS Football Academy we have a strong partnership with the Chelsea FC Foundation. This means that our students wear the Chelsea FC training kit as their uniform and play all of their fixtures in the Chelsea FC playing kit.
We are fortunate to work alongside Mr Steve Tapley, who is the Development Manager for the Chelsea FC Foundation in Kent. Through our links with Steve and Chelsea we are able to provide our students with world-class experiences, ranging from training sessions and fixtures at the Chelsea FC training ground in Cobham, Surrey to tours of Stamford Bridge.
Please visit the Chelsea FC Foundation website for more information:
Your day in the Football Academy
We operate a fortnightly timetable so you will have a different timetable in Week A and Week B. There are six periods of 50 minutes each day with 50 minutes for lunch and a 20 minute morning break. Football Academy students always have their lunch on the second lunch of each day. On Wednesdays students will be required to stay until 3.30 pm as we play our fixtures during this time.
Our students on the Level 3 course will have between 25 and 27 contact lessons a fortnight and you should use the rest of your time for studying and revising. The Football Academy has its own building where you can remain to carry on with work or you can use the Sixth Form Study Centre and the Open Learning Centre (OLC) for group or individual study. The restaurant is available for less formal time and is open specifically for Sixth Formers. You will have a Tutor Period every morning when your Tutor will give you important messages and provide you will high quality advice about your next steps. You will also attend a short, compulsory afternoon registration.
Football Academy students will have 6 hours of high-quality Football training a week, which takes place on either the Artificial Turf Pitch or the school field.