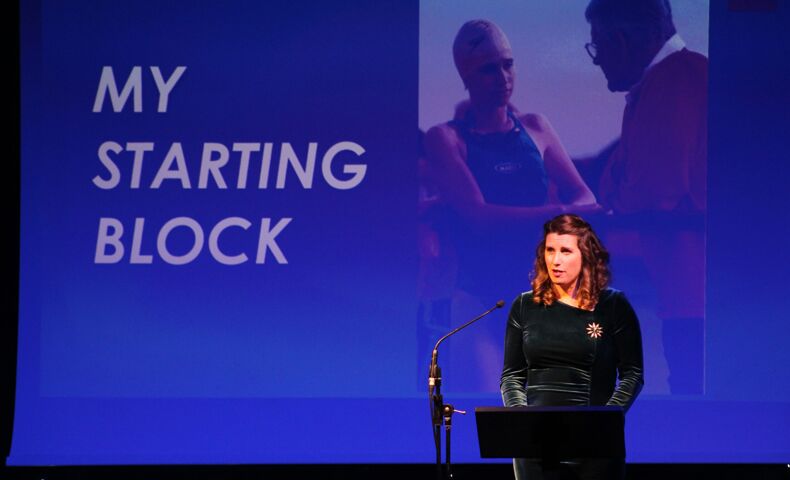 On Friday 18 November, lots of proud parents and other family members joined School Governors, the Headteacher and staff to celebrate the outstanding achievement of STS students. The evening saw the presentation of examination certificates as well as school prizes to mark the personal success and endeavour of our students.
The evening was hosted by Jake Cagan-Beer and Alex Finn-Holden, the school's Head students, and the evening featured of a variety of fantastic performances, including a rendition of 'I dreamed a dream' from Les Misérables to a rocking recital of Ozzy Osbourne's, Crazy Train on electric guitar. Ems Land and Thomas Miller, Yr12 students, shared some highlights of the school year.
They were joined by a guest speaker, Sarah Philpott, a successful solo channel swimmer who is currently the 3rd female and 7th in the world to have swum the 'Original Triple Crown of Open Water Swimming.' Sarah delivered a thought-provoking and inspiring speech about perseverance when faced with adversity and presented the certificates and awards to the students.
This event highlights the talent, commitment and enthusiasm of the students at Sandwich Technology School for all to see. The Headteacher praised her staff team on their incredible effort "Tonight is, of course, not about the staff, but after such an exceptional time I cannot let this opportunity pass without paying tribute to them and their exceptional hard work in what was the hardest time I have ever known in education." But she also addressed the students directly: "To all of you here tonight I want to acknowledge publicly that I understand how difficult last year was for you, and that my respect and admiration for your achievements, celebrated here tonight, are, for that very reason, amplified more than ever." To close Mrs Savage encouraged all to reflect on the words of Robert Schuller, an American motivational speaker, "'Tough times never last, but tough people do.' You are the living proof of this."